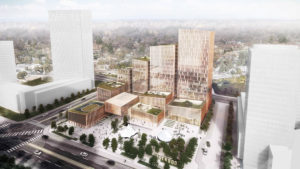 Winning Design for new Etobicoke Civic Centre
Etobicoke once known as a sleepy suburb of the city has not always been considered the sexiest of Toronto neighbourhoods but that's about to change and soon! Etobicoke covers a large geographical area with many diverse neighbourhoods from the lake all the way up to Steeles and is divided into three distinct areas-North Etobicoke is typically defined as 401 North to Steeles, (W10 W12); Central Etobicoke is Bloor to Hwy 401(W08/W09); South Etobicoke is Lake Ontario to Bloor St. (W07/W08). Neighbourhoods such as The Kingsway, Sunnylea, Humber Valley, Burnhamthorpe Gardens, Islington Village, Thorncrest, Princess Anne Manor, Long Branch, Mimico, New Toronto, Kingsview, Richmond Gardens, The Westway, and Rexdale all fall within the Etobicoke boundaries.
There are massive, redevelopment plans happening for Central Etobicoke right now that will change the face of this quiet suburban pocket forever. While many of the tight knit community features will remain such as the charming Kingsway and Islington Village districts, there are plans for a new 'hub' to be created at Kipling and Bloor which will become the 'heart of Etobicoke' or 'Downtown Etobicoke' not unlike how Yonge and Sheppard transformed 20 years ago. Plans include the demolition of the multiple ramps in the Six Points 'spaghetti junction' interchange which will free up acres of land for development. A massive transit hub is also being created blending Metrolinx, TTC, MiWay together in one location. A new, stunning state of the art Etobicoke Civic Centre for mixed use is also being planned in addition to at least 15-20 new condo developments along the Dundas St corridor towards Hwy #427.
Perhaps this is a very interesting time to look at this neighbourhood in a new light and perhaps consider this as a great place to buy a home now at a relatively affordable price? I can only think people who don't know about whats happening would be very interested in getting the latest news on what to expect.
I have so much more information to share on what's happening so please pick up the phone or email me and I'll fill you in on the very exciting details.