A new downtown Etobicoke is emerging.   
---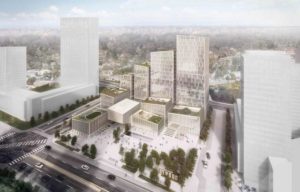 This is the rendering for the winning submission of the new Etobicoke Civic Centre, one of the many very big developments transforming the Six Point neighbourhood of Etobicoke.  This will be the focus of the new upcoming 'downtown Etobicoke' and I'm here to give you the inside on what's happening now.
This south Etobicoke neighbourhood is undergoing a massive transformation, right now, and is poised to garner a lot of attention in the very near future.  Its the 'one to watch' and will be one of the hottest places to invest in Toronto!  My advice to you is to get in now while you can.   Reach out and ask me what is happening here and be ahead of the curve.  Many people are not aware of whats' taking place but as the local Realtor, local resident and business owner I can share all the details you will want to know.
The Six Points Interchange intersects the major corridors of Bloor/Dundas/Kipling and a massive redevelopment projects are in the works.  A new Metrolinx Kipling Mobility hub is also being constructed which houses the Kipling TTC Station, Mississauga Transit and Go Train all under one roof.
 The de-commissioning of the Six Point spaghetti junction interchange has freed up huge parcels of land and will be the new home of an exciting, state of the art Etobicoke Civic Centre.  There will be significant public space, a community centre) and many other yet to be announced buildings (I've heard library, school, grocery store, office space and condos).  The area is to become the new downtown destination and hub of Etobicoke.  Cloverdale Mall, a 35 acre site will also see a massive makeover with a master planned community in the works with combination of commercial, residential, low and high rise developments along with parks and significant retail space and amenities.
The surrounding area has many fantastic neighbourhood pockets with distinct homes and terrific schools, both French Immersion, advanced placement, etc.  It really is a secret paradise that's about to become not much of a secret!  Quick access to the subway, airport, downtown and 400 series highways makes this an ideal location!  It will become the 15 minute city that many urban areas desire.
Improvements in the nearby South Etobicoke neighbourhoods are well underway (Mimico, Long Branch, New Toronto) with many young families and professionals recognizing the benefits of living near the lake!  The Kingsway neighbourhood just to the east is an established, high end community with great shops and restaurants. This area of Etobicoke offers so much with homes on large treed lots and tasteful new construction homes being built, the quaint Islington Village with hand painted murals salutes the areas historic past and luxe Sherway Gardens is the local shopping mall!  Future high end developments at Humbertown Plaza, re-development of Bloor and Dundas will quickly make this a vibrant and desirable neighbourhood.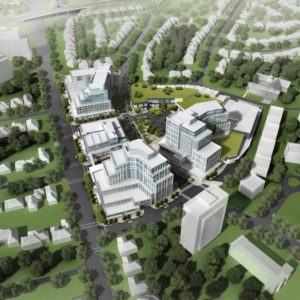 Rendering for future Humbertown redevelopment
Click here for all the new developments proposed for West Toronto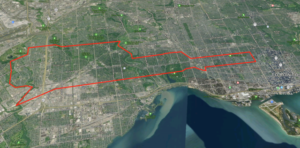 I have lived in Etobicoke my entire life, work in Etobicoke, sell Etobicoke and raised my family here. I'd love for your to reach out to me so I can fill you in on all the exciting plans on whats happening in this soon to be 'it' destination in Toronto.